Decatur Metro | July 28, 2014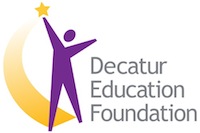 From the Decatur Education Foundation…
DEF needs your gently-used children's books!

It is sometimes hard to give up well-loved books – even when your book shelves are overcrowded.  At DEF we understand that difficulty all to well for we, too, are lovers of books and their well-told stories.  However,  the DEF Reader-to-Reader Children's Book Sale @ the Decatur Book Fair is great way to make sure those books find new loving owners.  The books are sold at a reasonable price and all proceeds support DEF literacy programs such as Book Fair Bucks, Project Bookshelf, On The Same Page, and author visits to every CSD school.  All of which allows the entire school community to benefit from your donations!

If you would like your books to reach new eager readers, please contact Nia Schooler at 

Nia@DecaturEducationFoundation.org

 to arrange for drop-off or pick-up of your donations.