Angie sends along this announcement from the Decatur Arts Alliance…
"three taverns walk into a bar…"
april fools comedy night at three taverns

Saturday, April 1 | 7 + 9 pm | Three Taverns Brewery, 121 New St. | $25

Sample the latest batch of laughs and hand-crafted beers. The Decatur Arts Alliance and Three Taverns Brewery host a night of local joking. And food trucks – delicious, delicious food trucks. Tickets available at freshtix.com. Choose from two shows – 7 pm and 9 pm. Limited seats available. Must be 21 or older to attend. Ticket price includes: a night of stand-up entertainment, brewery tour, Three Taverns selections, and a tasting glass to take home. Please drink responsibly.

New this year, the Decatur Arts Alliance partnered with one of Atlanta's best comedy shows, Funny Monkey Comedy, hosted by Joel Byars at Decatur's own Java Monkey, for a special comedy contest on March 1. The winner, Andrew Stanley, performs at our Three Taverns show on April 1. So come out to support live local comedy and put more laughter in your life.
Here is the comedy line-up for this year after the jump!
Julie Osborne
Julie Osborne has been performing standup since 2011 after spending many years developing her wit and humor to deal with prison inmates as a corrections officer. Her training continued as she mastered management skills in corporate America, where she worked with crazy people. She began hosting comedy shows for the LGBTQ community in 2012, creating opportunities for herself and other like-minded comedians.
Mo Arora
Mo Arora began performing standup comedy in Montreal and is now based in Atlanta. Here he is a regular at the Laughing Skull Lounge, was the house emcee at the Atlanta Improv, and now co-hosts the Schlitz and Giggles standup comedy showcase. He has performed at the Cape Fear, Orlando Indie, Scruffy City (Knoxville), and Memphis comedy festivals, and regularly tours the US and Canada on his own and with the #WorkingRemotelyTour. Mo's conversational style of comedy manages to be both observational and personal, and comes from a unique perspective – that is unless you know a lot of brown-skinned Canadians living in the South.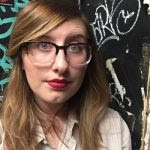 Paige Bowman
Paige Bowman is a comedian based in Atlanta. Her act is a charming blend of relatable and honest personal anecdotes told with zero shame and no apologies. Paige's 21st century everywoman comedy has endeared her to audiences across the country.She co-produces News Flash, a monthly news joke writing competition, and Laughs Trump Hate, a benefit charity series for those affected by the 2016 election.
Lew Lefton
Lew Lefton is not your ordinary geek. Sure, he's a mathematician and assistant dean of IT at Georgia Tech, but he's also an accomplished and experienced comedian who has done stand up and improv comedy for more than 30 years. Perhaps his talents are best summed up by his business card which reads:
Lew Lefton
Mathematician / Comedian
"He's funny and he can prove it"
Damon Sumner
Even before he first held a mic on stage, Damon Sumner brought laughter to people's lives. He continues to hone his craft and every time he touches the stage he delivers hilarious stories about his upbringing, and witty, high-energy observations of everyday life. Damon has been described as a blend of Kevin Hart and Jim Gaffigan. Since his 2010 stand-up debut in Atlanta, Damon has shared the stage with national and international headliners including Todd Glass, Iliza Shlesinger, Duncan Trussell, Jarrod Harris, Wendy Liebman, George Wallace, and so many more. In 2012, Damon toured China for a year and was a part of the team that opened the first full-time mainland comedy club in China, Kungfu Comedy Club. Damon has also performed in illustrious comedy festivals around the U.S. including the Dallas Comedy Festival, Laugh Your Asheville Off Comedy Festival, Out Of Bounds Comedy Festival and the Hell Yes Comedy Festival. Damon's goal is to be the comedian everyone can relate to, and to simply make everybody laugh.

Andrew Stanley
Winner of the Decatur Arts Alliance Open Mic at the Funny Monkey Comedy Carnival.
Andrew Stanley is a stand-up comedian and homeschool survivor who isn't afraid of bringing his deeply rooted insecurities to the stage. Okay, maybe he's afraid, but he's doing it anyway.  His observational style and dry sense of humor have pleased audiences across the southeast.  Andrew's comedy career may be young, but he's accomplished quite a bit. He won the Sunday Night Comedy Festival at the Atlanta Punchline, the inaugural Funny Monkey Comedy Contest, and took home the bronze at REV'd UP Comedy Jam. Andrew's parents are still alive so he works clean.